April 8th we went to Mother Farm in Chiba! (I have included many photo's! Check them out!
Chiba is directly across the Tokyo Bay from Yokohama/Yokosuka area.
We took the Aqua Line to make the trip very short. On our way we stopped on the Aqua line Rest Area, Ate 'all you care to eat' Strawberries at a small farm, THEN... The Mother Farm!
The drive was not bad honestly, except the later part.
Mother Farm is situated on the top of a big hill/mountain. The roads to get there are windy and small. Getting that huge bus up there was a riot! We all got there, in one piece though... so i am thankful!

FYI: Your ITT Tour only includes in it's price: Admission to the Mother Farm & All you can eat Strawberry's and Transport.
All Show's are included in the price of admission. Milking is also included.
They will try and Charge you for almost EVERYTHING else!
Bring Money! If you dont... you will wish you did.
We spent 85$... and i dont know where! haha!
30~35$ at the gift shop... snacks, icecream & others... if goes fast.
For a Family of 4 i would bring no less than 100$!
We also ate a SMALL Lunch, so... if you are to eat @ a sit down place... you'll spend about 1000 pp 700 per child.
Factor that in!
And on with the tour!------------->
The rest stop of the Aqua line was interesting, and i recommend stopping if you get the chance. I can see, where on a clear day... the view would be amazing. For us? It was hazzzzzzzzzy, very hazy! Even though, we enjoyed the visit.
After that we drove to a small farm. The older gentlemen had a few greenhouses filled with Strawberries... they were grown off the dirt... ready to eat! Those strawberries were the juiciest, sweet and red i have ever seen. You did not have to even bite them, you could just suck them right off the stem and they would melt in your mouth!
They were served w/ a cup of sweetened condensed milk.... mmmmmmmmmmmmmmm
Like icing for the berries! omg!
We had 30 minutes to stuff out faces, but 10 minutes was more than enough!
I would love to take Ethan to a strawberry farm like that one day!
After our belly's were full of berries, we headed to the Mother Farm.
In a nutshell, the Mother Farm was VERY fun, and BEAUTIFUL!!!!

#1, i would NEVER attempt to drive there!
#2, although the trip was pricey 150$ for the 3 of us, it was worth it!
#3, with ITT, you do NOT have enough time to do everything, accept it!
#4, go to their website, and TRY to make a game plan.
#5, the 'rides' at the top of the hill? kids under 6 can NOT ride w/ out a parent. You will laugh when you see that they want YOU to ride a 'baby ride w/ your child'. i don't even think the 'ride' would hold a teenager!! LOL
#6, scope out a lunch spot early on!
#7, make AS MANY shows/events as possible. if you don't, you may feel as though your $$$ was waisted.
#8, try the fresh milk, it was delsih!
#9, eat the ice cream! Fresh!! mmmmm!!!
#10.... don't take the TRACTOR ride, for 1200Y(400 pp) it was so not worth it ........ It was long, and other than the views... it is for 'nothing'.

Ok! those are my 10 things ... LOL (i did not even know i had 10 things!...haha!)

I let the kids sit together for this tour, and they did quite good this time.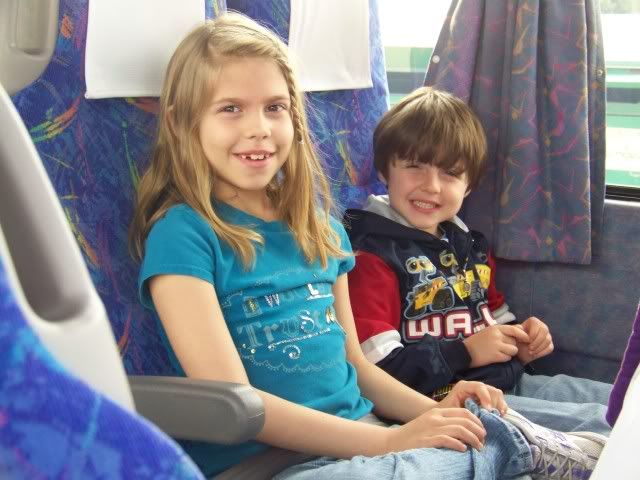 SASEBO BURGER?!?!?!?!?! We saw this place at the Aqua line rest area!
We wanted to eat there, but they were closed! :(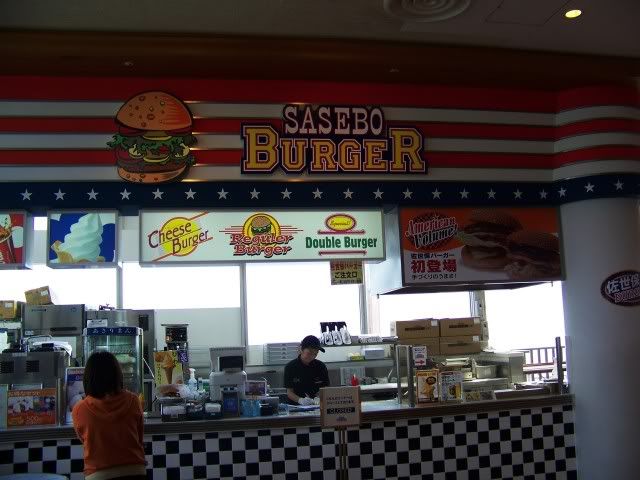 It was Hazy, but the view was still pretty.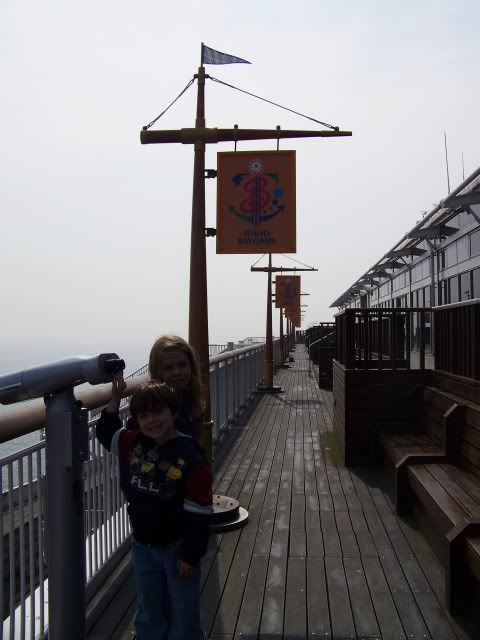 Back on the bus, and headed to strawberry picking!



Japanese Signs Crack Me Up!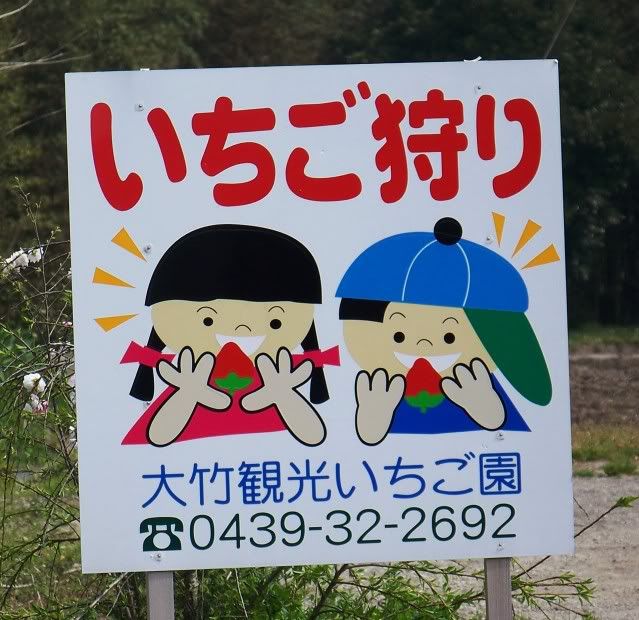 Chiba is really quite country, from what we saw. Peaceful, and Reaxing! Rice Patty's everywhere,... it reminded me of Sasebo for sure!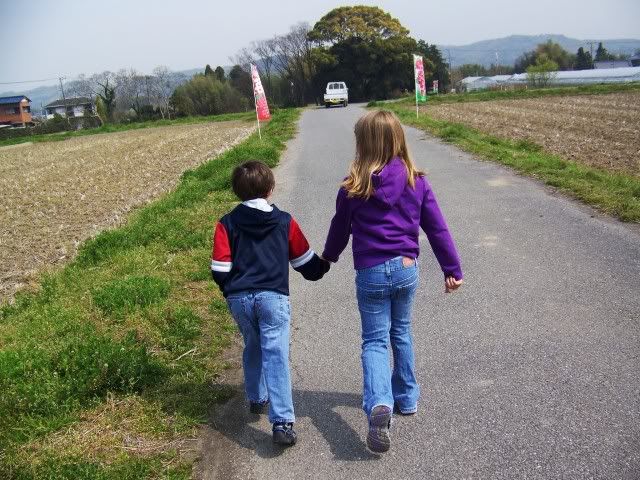 Please take a bowl and some sweet cream!


All You care to Eat! 30 Minutes!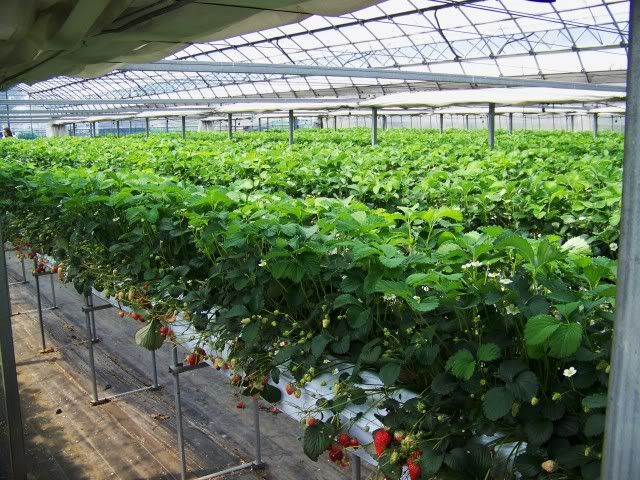 So Yummy!!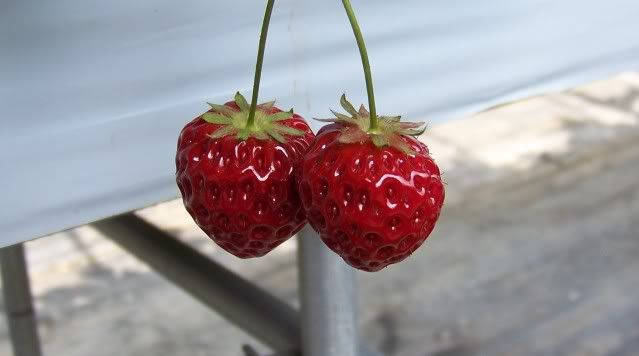 We ate for a pretty short time, and the kids were done!
Evan even had a small reaction to the berries. He had a bumpy mustash for the rest of the day.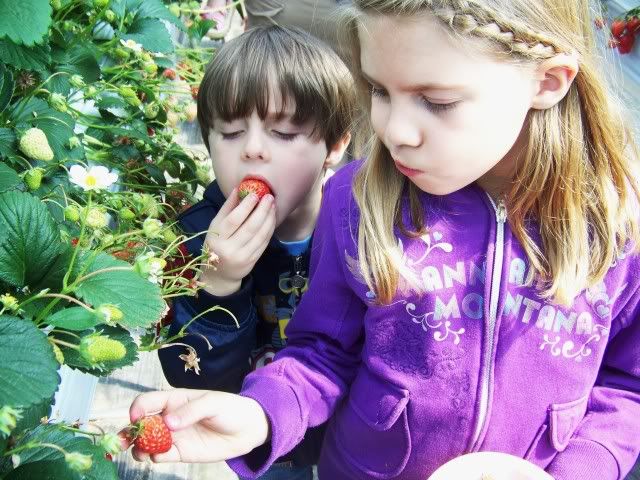 See the Sign?? We are almost to Mother Farm!



At 1st sight! Wow! Cow's in Japan!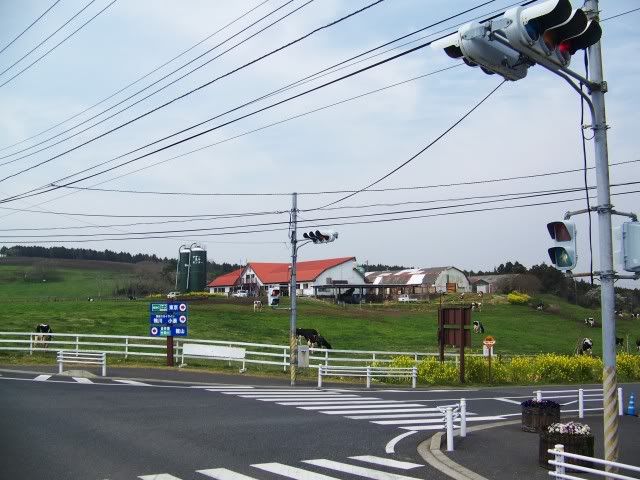 Ready, Set, Run!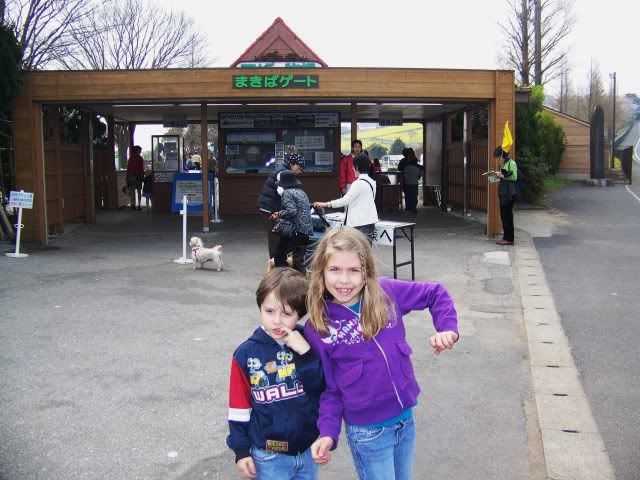 The Rape Flower were so beautiful here!
They claim to have the most rape flowers in all of Japan.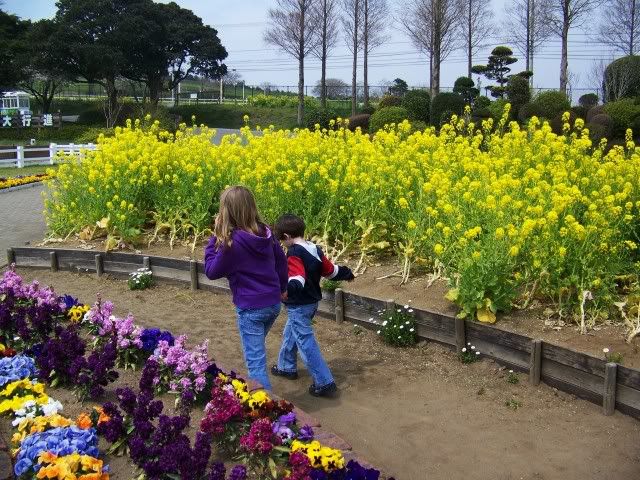 Evan usually does not like his photo taken... but he walked up and asked for his photo taken!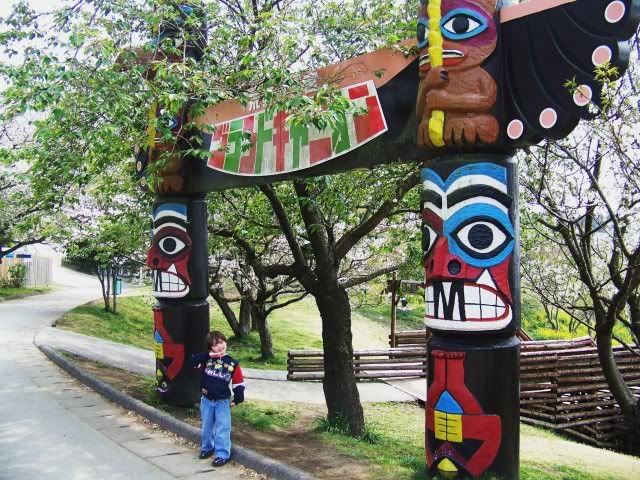 Pretty much right after arriving the kids saw/begged to ride the tractor.
So, i said, why not! it's 400 Y PP... it's gotta go somewhere see something.
Well, other than the pretty view, it did nothing, and dropped us off up in the 'ride' area.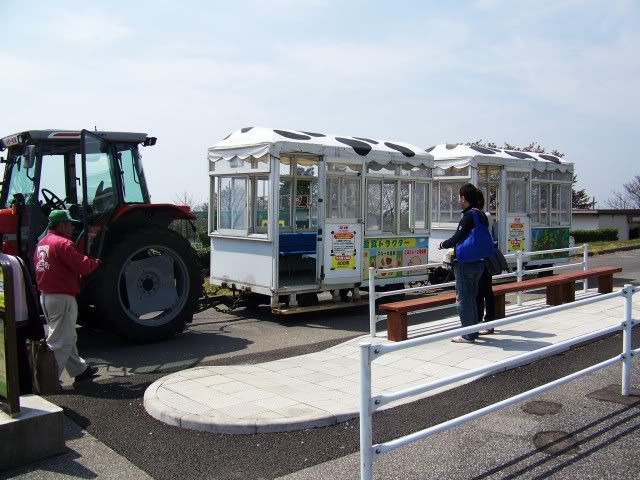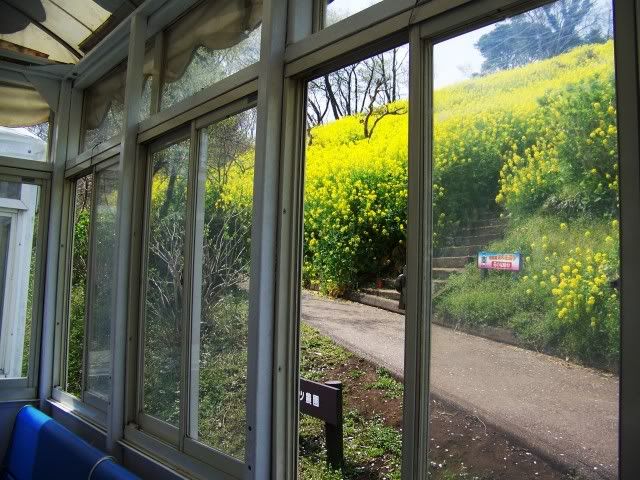 Once we got to the ride area....
Evan begged to ride, and he could not, because you have to be 6... or w/ mommy.
Well, if you know Mommy... that was so not going to happen.
So, we made our way to a diffrent area.
After we walked around a bit, and decided that the only thing in that area was the Sheep Show and we still had over an hour until it started. So, we took this Doggy Bus (for 100Y each) back down the hill. This Doggy bus was adorable... it barked and howled as it drove! To cute!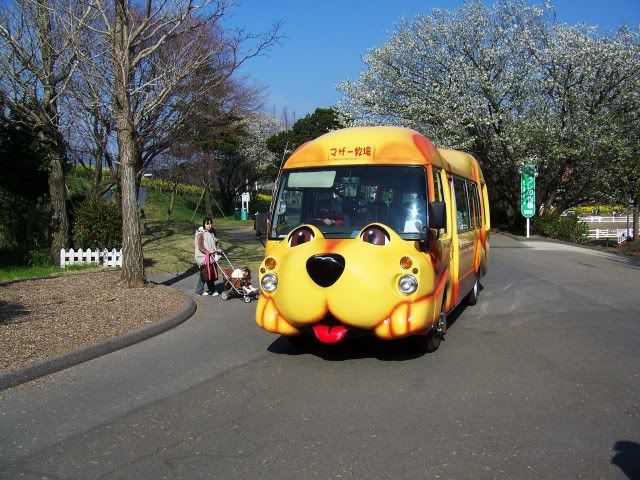 A view from the Tractor Ride... amazing views!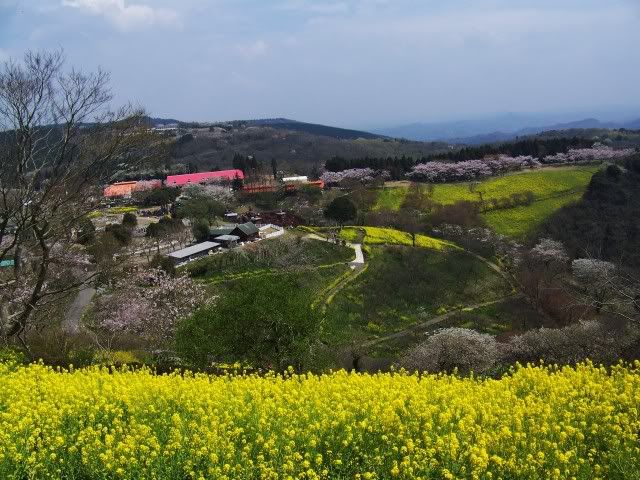 After the Tractor Ride & the Dog Bus (totaling 1500Y (or $15)... we visited/fed the Ducks.
Finally!! Aniaml's! 200Y (or $2) for 2 bags of food.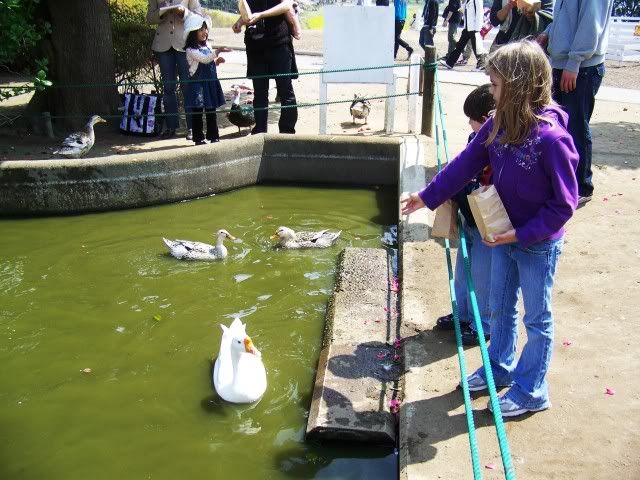 Shortly after we found the animal area (and visited the donkey, goats and sheep)... we bumped into a friend from our TOKYO! Trip & Shomyoji Temple Visit & the Author of Where's the Fork Blog! WoW! I am so glad we ran into each other!!! Her 2 daughter's are just aodrable, and her company was just so nice! We hung together for the rest of our tour. Her oldest Daughter is Evan's age, and her youngest is 13 months. Both children were Great company and pleasent to be with. Olivia was just so sweet w/ her youngest, and that put a smile on my face! Evan for sure found a new friend!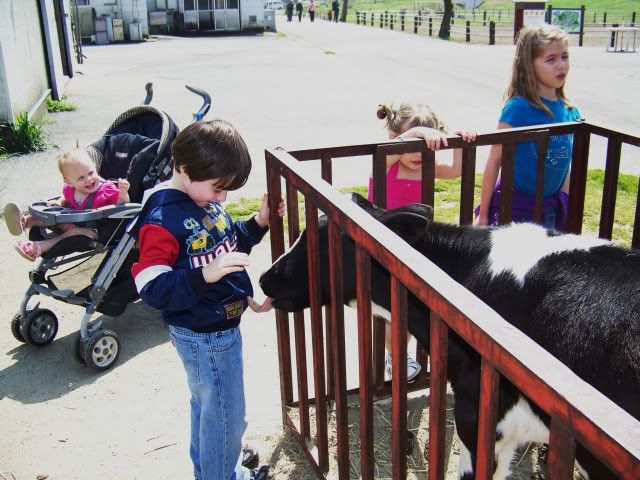 We all headed over to the 'Cow Farm/Milking area', to get from one farm to the other... you need to pass through this tunnel.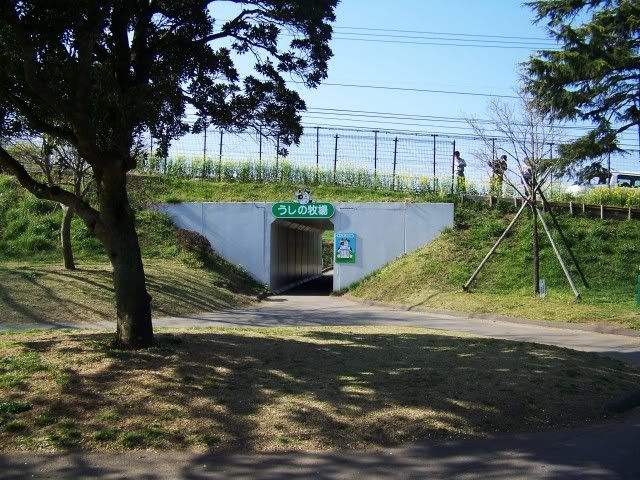 I will say the cow's and horses did not seam very friendly, but the kids did have fun... the little petting/visiting we did do.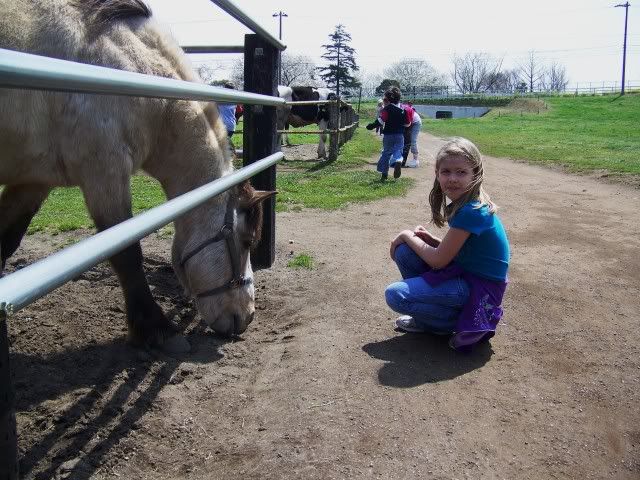 This baby cow was very cute/nice... see --->he is licking Evan!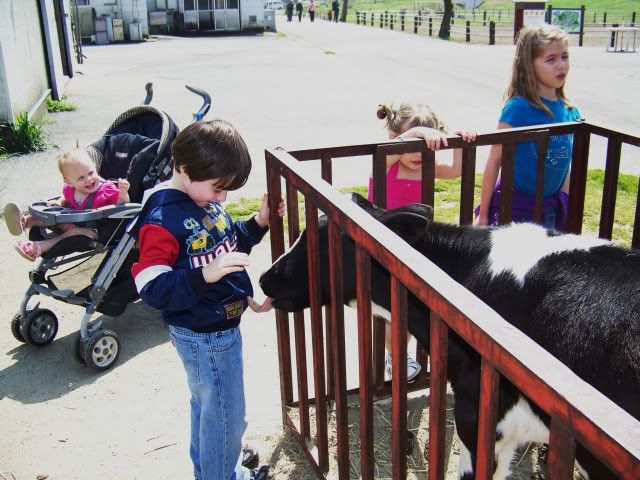 Off to the Store! Where all Mommies love to go!
In the Store we got to sample cheese... and the kids enjoyed that too.
After chees sampling, we all got a Fresh Milk SoftCream Cone! Mmmm!!!
Your choice of Vanilla, Strawberry or Mix.
For 300Y (or $3)per cone, it was Worth Every Lick! MMMmmm!!!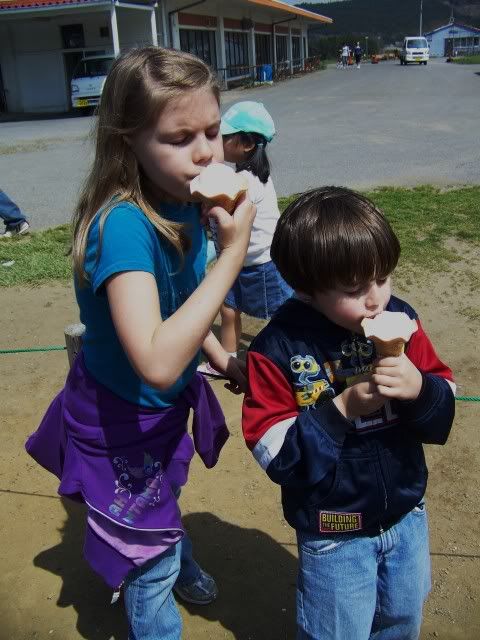 While eating our softcream cone we made our way over to the Milking Experence line.
Soon enough the cow(s) came out, and got ready to be um... tortured by little children!
The cow's were real troopers!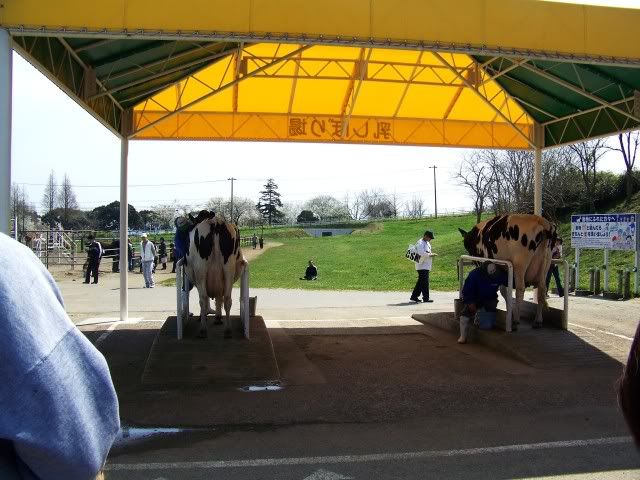 Let me say, i did not think my kids... of all children would hesitate to milk a cow.
I guess that--------------> freaked them out!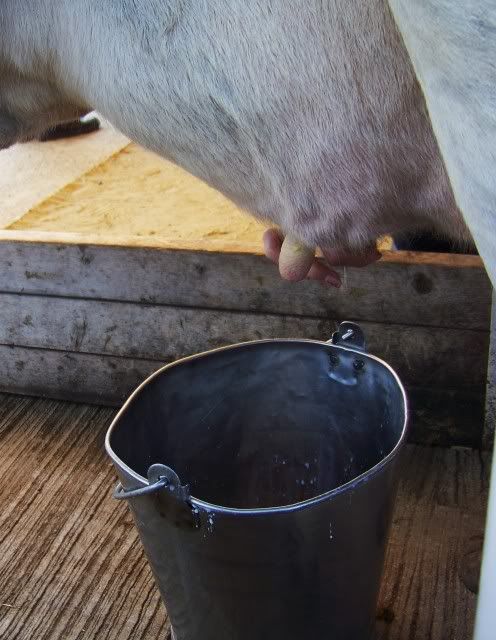 Just look at Olivia's face!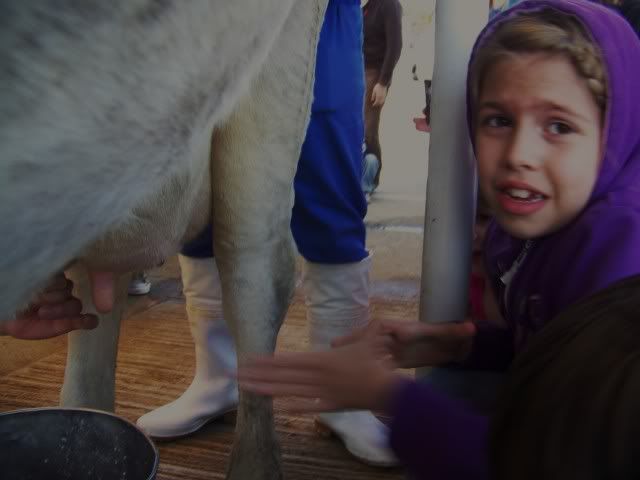 But, after i showed them... that it was A-ok... Olivia got the hang of it...


And Evan too!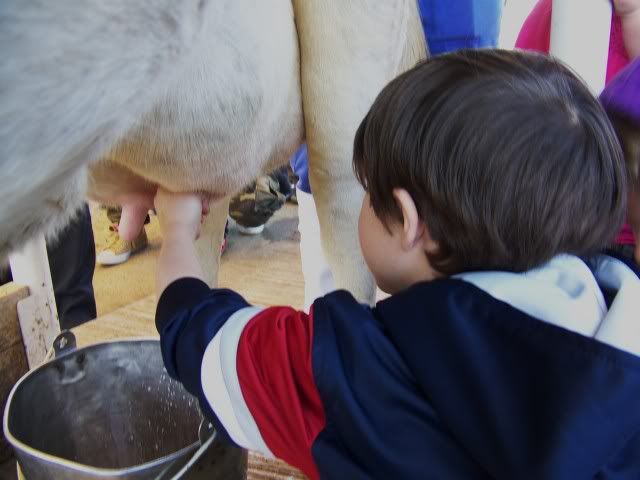 I think the visit was worth it... just to try milking a cow!
Evan's #1 "must do" at Chiba Mother Farm ... milking a cow---> Check!

After the milking we we headed back through the tunnel.
We were 'rushing' but we really wanted to make the Sheep Show... 12 minutes... can we do it?
Um!... we did! And, it was a hike... w/ little kids. But, we made the best of it, and i am glad we made the effort, 75% of the show was very enjoyable.
Hiking for the show!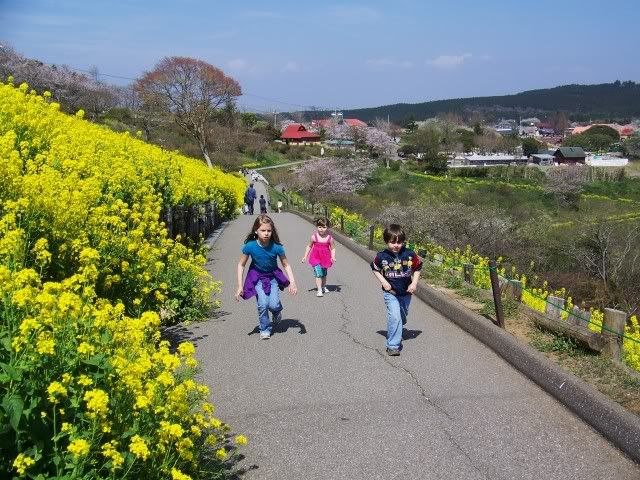 The Sheep Show was Olivia's #1 must do for the day. (I am glad i asked each child what they had to do... if anything, and made sure both of them got to do it. It made for a nice trip, with little/no booooooo hooooo's)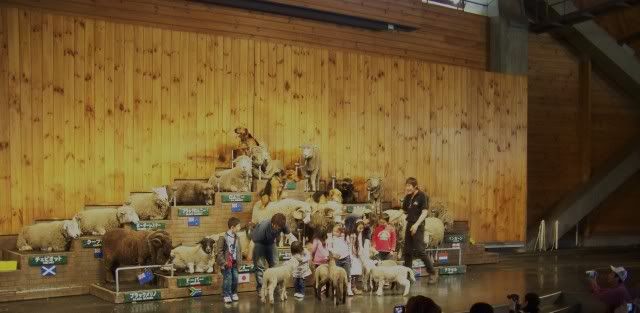 Odd... 3 dogs sat on the backs of the sheep! They also ran around the stage... using the backs of the sheep.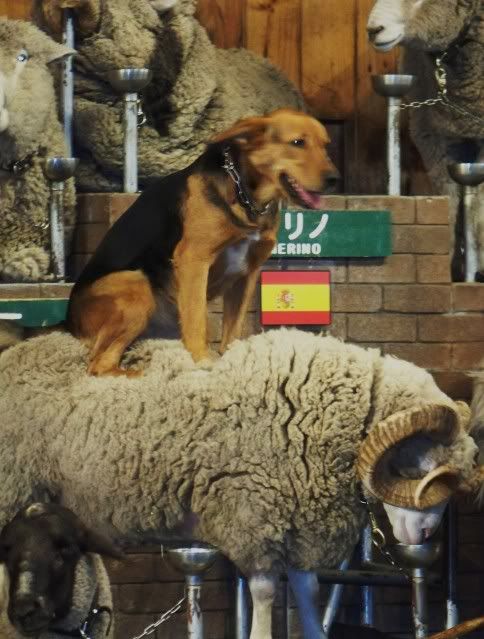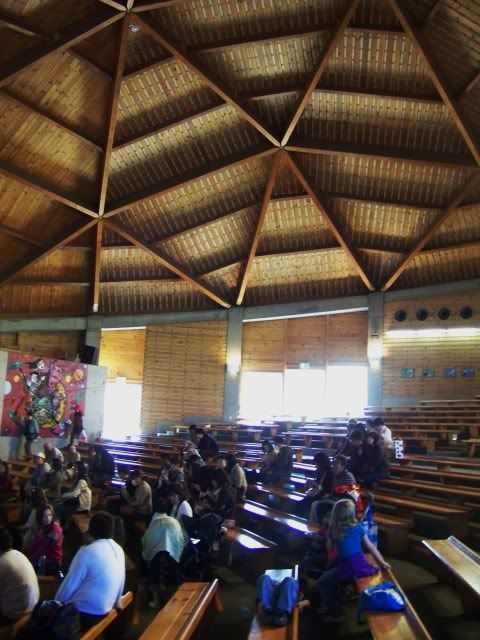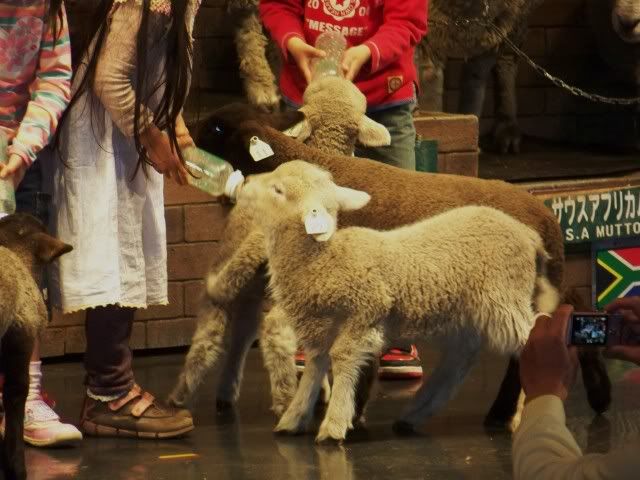 I wont post picture of the sheep sheering. It was horrible, and if i do (post pic's/video....) my BFF will be so mad @ the mother farm (the animal lover she is)... I am sure the sheep was A-ok after this, but it was hard to watch.

After the sheep show we let the kids play on the hill. The rolled down and just blew off some steam.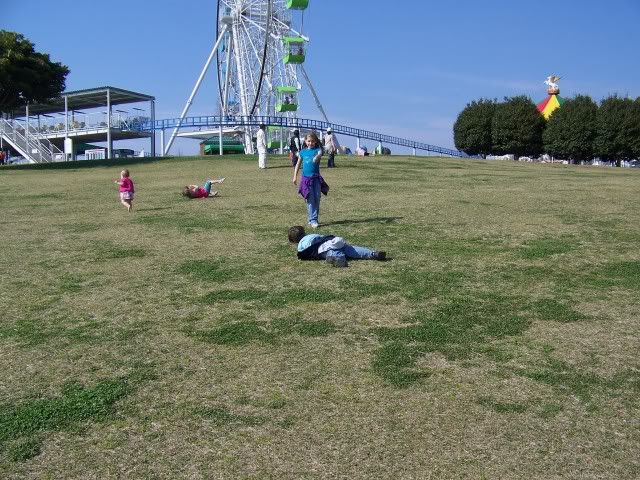 Olivia said "Take a picture of me here!"... my kids...they are getting used to me taking a ton of photos... they are actually ASKING for photo's now! haha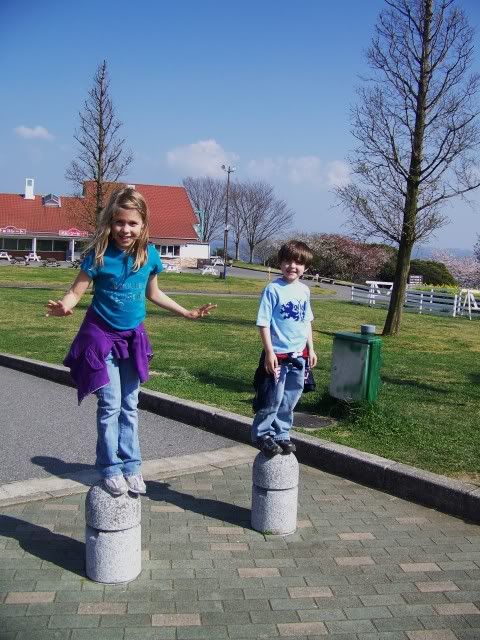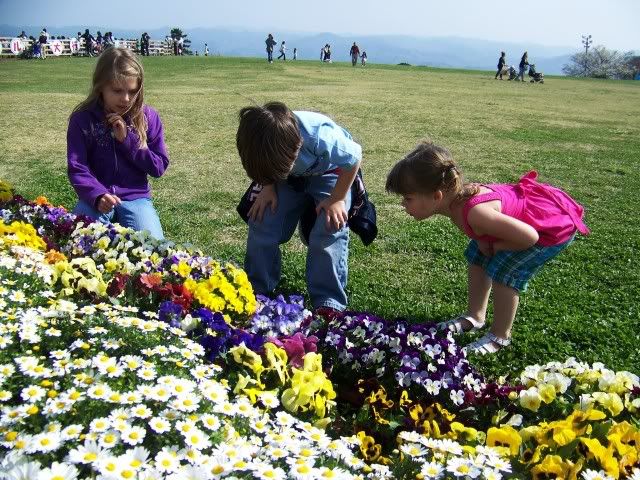 Before we headed back down the hill (for a 2nd time)... Evan hopped in this coin ride for a picture, to cute!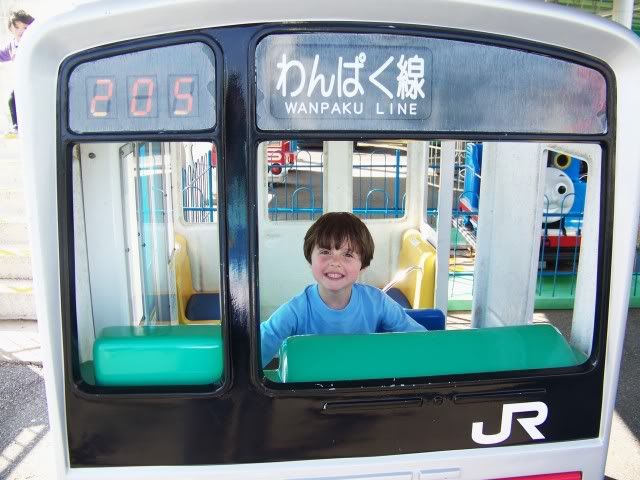 Down the hill...


And to search for a meal, other than icecream/cheese/milk--->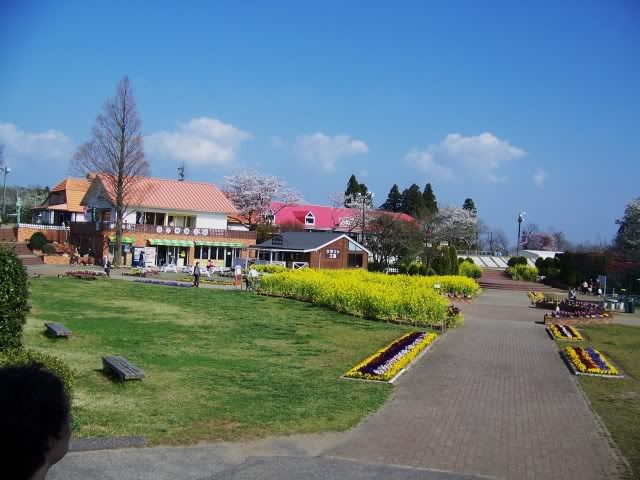 We found this icecream stand that sold hot dogs & lamb burgers. (along with a few other places)
Well, after standing in line... they were out of burgers... so we ALL had a Japanese hot dog.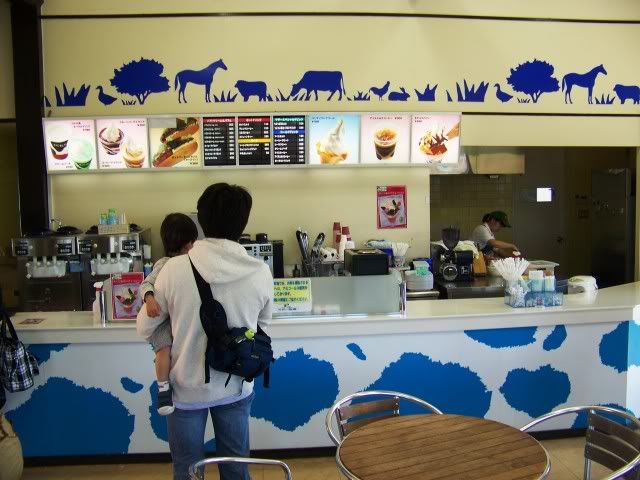 I also ordered FRESH milk... WOW! I never liked milk, but i like this milk! So delsih!
Evan also tasted, Olivia did not.
And see the little glass 'cup'? Well... that, i took home!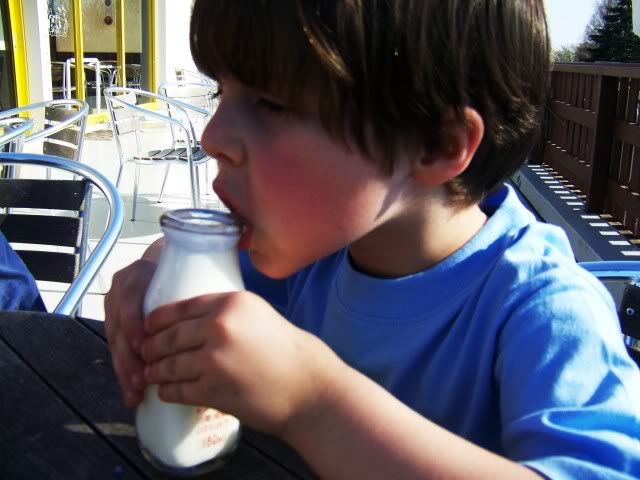 We visited a shop, before saying goodbye to Chiba Mother Farm.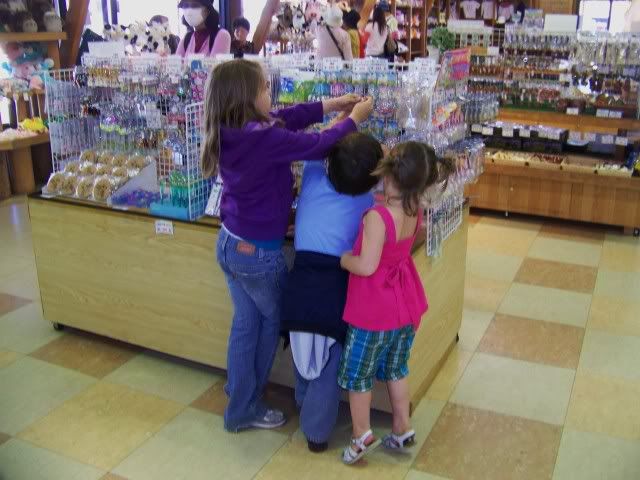 What did we buy you might ask?
The kids got these--->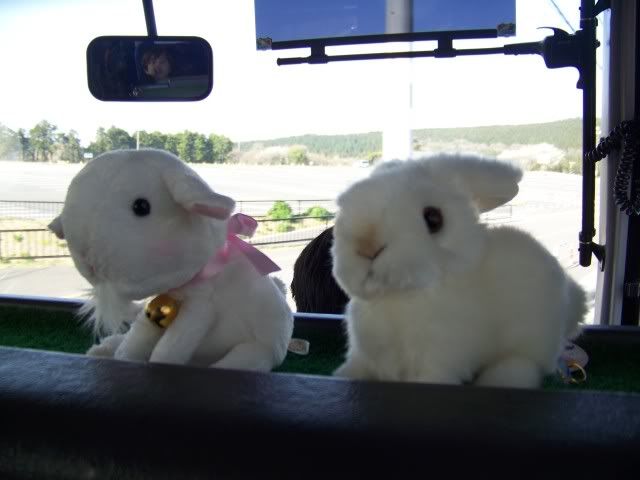 And we bought Daddy this--->Milk Carmel!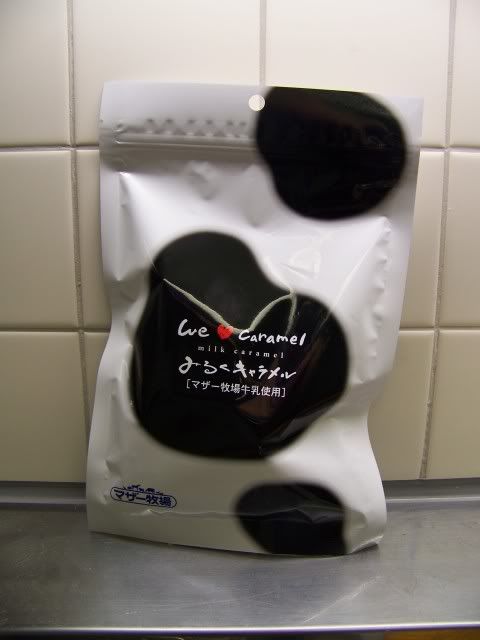 I also bought Milk Cake ---> check out the Engrish (if you can read it)... haha!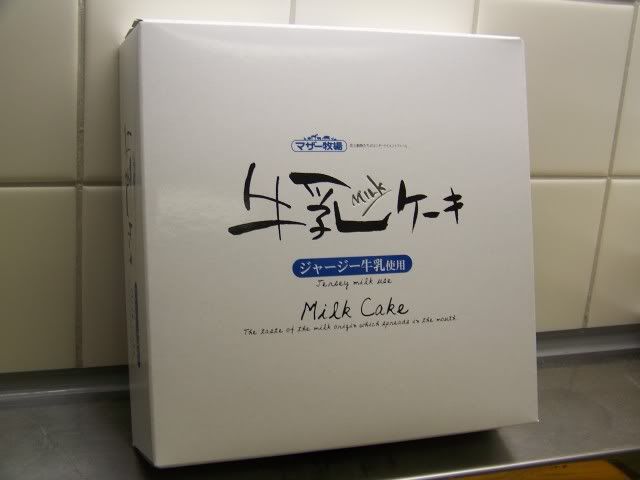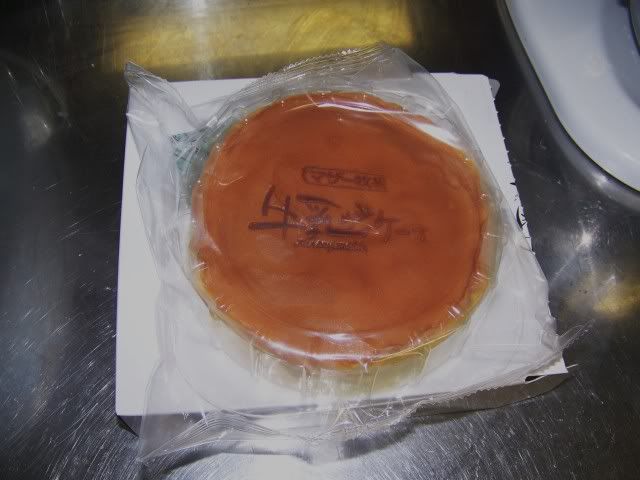 I also got a Great Mother Farm Bag! Awesome!


We really enjoyed our trip to Mother Farm in Chiba!
It was Pricy, buy worth it!